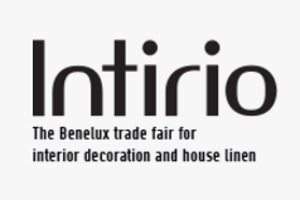 House linen, wall, floor and window coverings, supplemented with interior accessories: this restricted product range; exclusively from the middle to high-end of the market, is the backbone of the Intirio Benelux fair. In this market segment, Intirio unites 200 exhibitors year by year, with a total of 600 different internationally renowed brands.

The total exhibition area of 26,000 m2 has remained unchanged for years. During the last editions Intirio used the extra spacious hall 1, supplemented with hall 4. This move was highly beneficial to the clear segmentation of the exhibition. This compact offering, the high-quality collection and the clear segmentation makes Intirio a very efficient sales instrument.


The first pillar of Intirio's success story is the specific focus on the Benelux market. Translating international trends to their own target group, being able to fully implement the general styling advice with a vision on the domestic market, that's what it's all about in Ghent. The international collections found on Intirio, are a perfect match to the desires of the Benelux market. The trendforum, created in cooperation with the exhibitors, provides the visitors with tangible examples.

The second pillar of Intirio's success is the personal contact between exhibitors and visitors.
This personal approach makes for a positive vibe that paves the way for doing business.

Annually about 10,000 interested buyers, mainly from the Benelux, make their way to Ghent. There is a remarkable balanced geographical spread over the various parts of these countries: from the north of the Netherlands to the south of Belgium and Luxembourg, and even the neighboring areas of France and Germany. The visitor statistics are a perfect match with the most important target groups/customers as indicated by the exhibitors.

The second most important visitor group consists of decision makers within the project market.
With the Intirio connect, a digital intensively read newsletter, sent out 6 times a year to 20,000 addresses.

With an interactive and revamped website since 2015 and 50,000 visitors... an increase of no less than 19%.

With a growing presence on social media with 28% more followers on Facebook. Twitter with a total of 1000 twitterers, a very popular medium in the Netherlands.