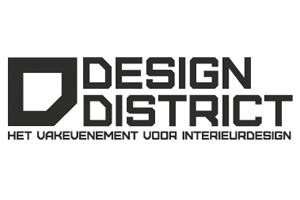 Design District is the meeting point for the interior design industry in the Netherlands . The 14th edition of the trade event is scheduled for 1, 2 and 3 June 2016. The event returns at Taets on the Hembrug site in Zaandam (in the shadow of Amsterdam).

Design District is formerly known as 100% Design!
As is now widely known, 100% Design, known as the trade event for interior design in the Netherlands, continued as Design District. The last 4 editions took place in Taets, Zaandam (near Amsterdam). Besides this new name, the concept and organization of the event has remained the same!

What is Design District?

Design District is the leading event for interior design in the Netherlands. About 150 high-quality participants show their newest and best products in the field of interior design on a 7,000 m² exhibition floor and in the immediate surroundings.

An exceptional venue and a combination of the best brands, innovative newcomers and young designers provide an inspiring event where you are informed quickly of the latest developments in interior design.

Design District is primarily aimed at professional public. The first 2 days, 1st and 2nd of June, are for trade public only; (interior)architects, designers, project managers, facility managers, press, retailers, stylists and others who professionally are involved with interior design. Friday, June 3rd, all public including consumers and students are welcome at Design District.


For whom?

Participants

Design District has room for about 150 participants. Manufacturers, importers and agents of contemporary design can show their novelties to the trade public. Both established brands and interesting newcomers show their best brands and latest products. (Young) Designers will also have a chance to present their new products. This combination is creating a pleasant atmosphere and plenty of inspiration!

Lighting, modern office and contract furniture, home furnishings, lighting, sanitary, tiles, materials, textiles, flooring and more; everything can be found in one place! Also trade magazines and associations for interior design, architects and designers will be present.

An advisory board of 5 people from the industry will monitor the quality of the participants. They will select participants reviewing the products and the renewing grade of it. All product categories at Design District must be proportionally represented, so the advisory board also keeps a close watch on the balance in participants.

Visitors
Interior designers, architects, designers, facility managers, retailers and other professionals are welcome to visit the event at the 1st, 2nd and 3rd of June 2016. Students and general public with a special interest in top design are welcome on Friday 3rd of June. During Design District 2016, about 6,000 visitors are expected.